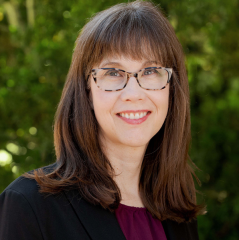 Member
President's Professor Amy Ostrom is interim dean and the PetSmart Chair in Service Leadership. She joined the W. P. Carey School of Business as an assistant professor of marketing in 1996.
Professor Ostrom's research interests focus on services marketing, including the relationship between service and well-being known as transformative service, customer adoption and evaluation of technology-enabled services, and the customer's role in creating service outcomes. Her passion for service research can be seen in her publication titled "Service Research Priorities in a Rapidly Changing Context." Her work has been published in the Journal of Marketing, the Journal of Consumer Research, the Journal of Consumer Psychology, and the Journal of Service Research, among other leading publications.
Professor Ostrom has been recognized for her achievements in academia, including the 2012 Huizingh Outstanding Undergraduate Service Award, the 2007 ASU Parents Association Professor of the Year, and the Carnegie Foundation for the Advancement of Teaching's 2004 Arizona Professor of the Year. She is also on the editorial review boards for the industry-leading publications Journal of Service Research and Journal of Service Management.