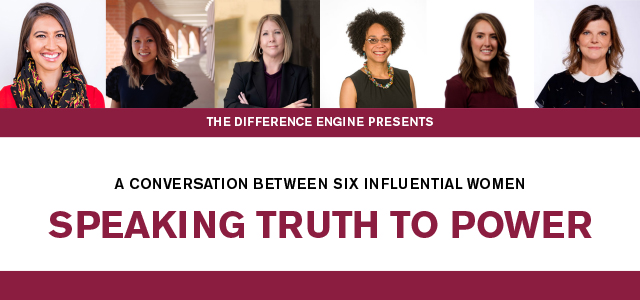 Engineering Change Speaker Series: Speaking Truth to Power
---
Join us on Thursday, November 4 at 4:30 p.m. PST/5:30 p.m. AZ time) for the sixth session of The Difference Engine's speaker series. Event will feature a panel discussion between Difference Engine fellows on how gender equity issues play out in visible and invisible ways - from work, to public health, to the world at large. Our incredibly diverse fellows will share personal stories about the challenges they've faced as professional women, but more importantly, how they have overcome them. Members of our Women's Power Index team will also share updates on our work and provide a sneak peek at some of our preliminary rankings.
When you RSVP, we'd like for you to share the ways in which you have overcome challenges related to inequality. We plan to anonymously integrate these lessons and stories into our conversations at the event.
Event will take place in-person at the Herald Examiner Building (1111 S. Broadway | Los Angeles, CA 90015) and virtually. Zoom link will be sent prior to event date for our virtual attendees.
RSVP by November 3 here.